Over the past few years, the number of counterfeit incidents concerning pharmaceuticals have risen at an alarming rate. The World Health Organization has estimated that countries in Africa, Asia, and Latin America have areas where more than 30% of the medicines on sale can be counterfeit.
Counterfeit incidents are just the tip of the iceberg. Every day, the healthcare sector has to deal with issues like data breaching involving sensitive patient information, hacking and phishing incidents, indicating towards an increased need for the collaboration of Blockchain with the Healthcare industry.
While most countries have just started to implement blockchain technology to improve the overall healthcare experience, Estonia had begun using blockchain technology in as early as 2012 to protect healthcare data and process transactions.
Source: Author
The scope of blockchain technology in healthcare is immense. The ledger technology facilitates the secure transfer of patient medical records, manages the medicine supply chain, and helps healthcare researchers unlock genetic code. The technology securely encrypts patient data to manage the outbreak of harmful diseases. Moreover, the data recorded cannot be changed which proves 100% authenticity and security. Blockchain medical records can hence prevent costly mistakes.
The decentralized nature of the technology creates an ecosystem of patient data that can be referred to by the doctors, hospitals, pharmacists, and others involved in the treatment. This is how Blockchain leads to faster diagnoses and personalized care plans.
Blockchain creates permanent evidence of any changes made to the information in the online health records. Therefore, the hackers will not be able to hide their identity if they access or change the information. The technology also provides real-time alerts in case of attacks.
Blockchain technology in the healthcare market can be classified as Public and Private.
Public networks
Public networks involve low costs and provide access to a larger database. Public networks are hence most commonly used for data management.
Private networks
Private networks offer privacy, fast transactions, and high security. Therefore, they are designed to be used for precise enterprise needs. The major factor that leads to the growth of the private sector is the increasing demand for a highly secured supply chain network.
Furthermore, the future prospects with regards to technological advancements are expected to lead to a hybrid type of network.
Use Cases
Here are some of the most popular real-life applications of blockchain in the healthcare industry:
IBM
Two years ago, IBM had announced a new blockchain-based healthcare ecosystem health insurance companies like Aetna, Anthem, Health Care Service Corporation (HCSC), and PNC Bank. The scope of the project included: Claims & processing Health data exchanges Up-to-date directories
Change Healthcare
In November 2018, Change Healthcare had announced a collaboration with TIBCO to build a smart contract system for healthcare. This will automate the claims transaction process, thus significantly decreasing the cost of administering claims.
Gem
Gem health first partnered with Philips in healthcare to explore how blockchain technology can support a patient-centric approach to healthcare. It had initially focused the technology on 'payments and financial applications, but now they plan to expand further.
Market Scenario & Future Prospects
The blockchain market in healthcare was valued at USD 2.12 billion in 2020 and is expected to reach USD 3.49 billion by 2026, with a CAGR of 8.7% during the forecast period: 2021-2026.
Major US companies like Humana, Multiplan, Optum, UnitedHealthcare, Quest Diagnostics, and Ascension have formed an alliance called Synaptic Health Alliance to try blockchain solutions to improve data quality and reduce costs. The Alliance "plans to build a permissioned blockchain that would let members view, input, validate, update and audit non-proprietary provider data within the network."
The blockchain market in healthcare is still unexplored because of the high level of expertise required in implementing the new technology.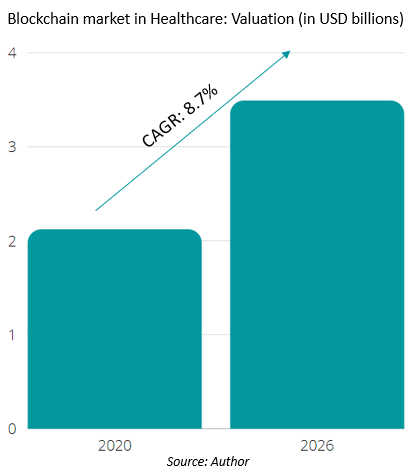 The concentrated market allows large organizations to take advantage of specialized blockchain-based healthcare offerings from vendors like Gem, IBM, and Microsoft.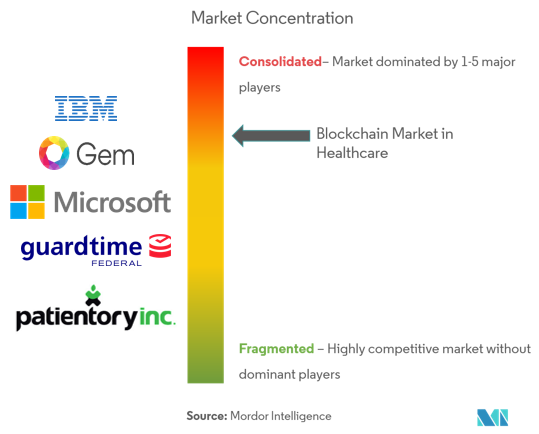 Rising investment in the development of efficient healthcare records system, wearable devices cryptography, and medical examination systems is anticipated to provide this market with lucrative opportunities in the near future. Growing diseases and pandemics like Covid-19 are expected to create a huge amount of data, boosting the demand for data management, eventually contributing to the rise in application of Blockchain technology in healthcare systems.
---
If your firm wants to enter the blockchain space and you are looking for assistance, contact us –Admantium we are a boutique investment banking firm focused on blockchain. We offer financial services like ICO advisory services, crypto mining services, and you can hire us as your ICO advisor, cryptocurrency advisor, cryptocurrency financial advisor, STO advisor/ security token advisor and more. Contact us now!
---
About the Author – ANSHULI SONI
Anshuli Soni is a Financial Analyst at Admantium Crypto Advisors, an investment banking and consulting firm focused on blockchain technologies. We help early-stage entrepreneurs and startups in Building Business Models and Developing Business Ideas take a 360-degree view of how to build a sustainable business using blockchain technologies, translating concepts into clear-cut plans. We also help raise external funding to kickstart or grow your business.